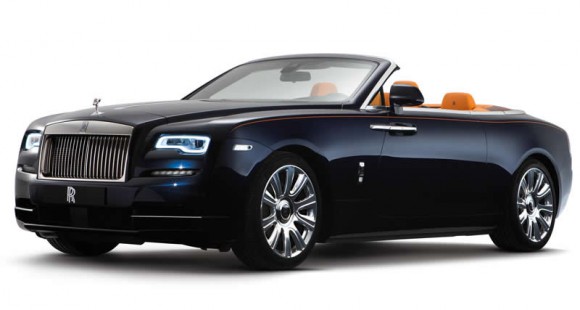 While it may look a lot like the Phantom Drophead, this is the brand new Rolls-Royce Dawn. Based on a platform it shares with the Ghost sedan and Wraith coupe, the Dawn is a smaller and perhaps more sporting convertible than its big brother.
A little smaller it might be, but the Dawn is billed as uncompromising and as a result, has four opulent leather seats with ample space for large adults as well as plentiful luggage capacity. It remains over 5 metres or 17 feet long and oozes presence without screaming for attention. In describing it, a new word has entered the Rolls-Royce vocabulary; alongside the more established 'sophistication' and 'refinement' is the eyebrow-raising adjective 'sexy'.
Making its first public appearance at the Frankfurt Motor Show, the luxury brand's latest addition promises power and refinement from its silky smooth V12 engine. The 563bhp twin-turbo 6.6-litre powertrain makes it the most powerful Rolls-Royce convertible to date. A 0-100kmph (0-62mph) time of 4.9 seconds is possible should it ever be required. And while the Dawn is very much a super-luxury cruiser, attention has been made to ensure the car has a precise and responsive driving experience so it is as happy in winding mountain roads as it is purring up to a five-star hotel.
Self-closing, rear-hinged coach doors ensure a graceful exit from a car which adheres closely to traditional Rolls-Royce design principles. It retains all the classic proportions and details while being a thoroughly modern car. Simplicity is key. You won't find a dashboard full of buttons and digital displays. The latest technology is hidden away under layers of wood, leather and stainless steel to ensure every whim of the super-rich are catered for, and you will need to be super-rich as this is no cut-price model. Official prices have yet to be released, but you can expect that if you need to know, then it probably isn't for you.