A special edition of the Rolls-Royce Phantom Drophead Coupe has been unveiled as a tribute to Sir Malcolm Campbell the British land and water speed record holder of the 1920s and 30s. Sir Malcolm's vehicles were all each named Bluebird after his Bluebird Motor Company business and in tribute to this name the colour themed Rolls-Royce Convertible was first unveiled at the Bluebird Garage Cafe in London on the site of his original garage. It will also feature at the Concorso D'Eleganza at Villa D'Este later this month.
The Rolls-Royce Phantom Drophead Coupe Waterspeed Collection car in its specially developed 'Maggiore Blue' exterior paint finish reflects the record breaking machines. The colour also continues on the ten-spoke alloy wheels and as contrast features in the otherwise Windchill Grey interior trim. Even the V12 engine features blue rocker covers. The hand crafted machine even has Abachi wood veneers that have been angled to echo the wake of a speeding boat.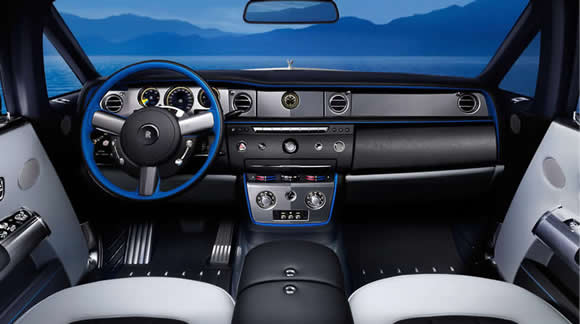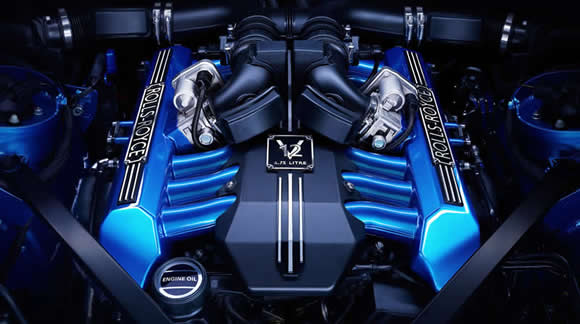 "This very special motor car serves to pay a perfect homage to my grandfather's remarkable acts of British daring and endeavour," said Donald Wales, grandson of Sir Malcolm Campbell. "The extraordinary attention-to-detail and commitment to engineering excellence so evident in these motor cars perfectly echoes the lengths my grandfather and his colleagues went to in their pursuit of the waterspeed records."
Direct tribute to the records is paid in the glovebox, with a hand-embroidered panel expressing the records Campbell achieved at Lake Maggiore and Coniston Water.