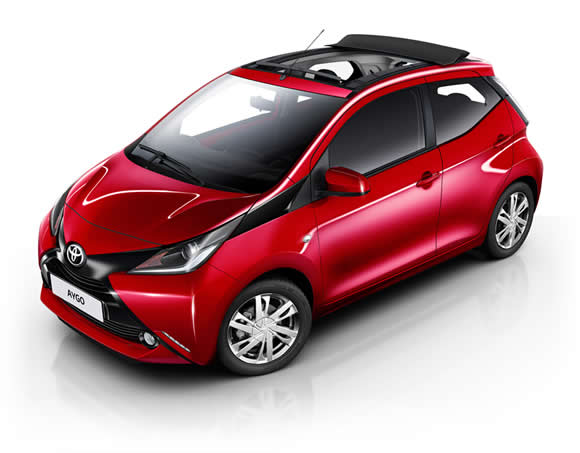 The Toyota Aygo small city car gets a convertible option in the form of the X-Wave power operated canvas roof. Only the centre section folds back in the now popular style which retains a rigid chassis and security of fixed door frames. It also benefits from 5 doors despite its diminutive size and the interior is modern and surprisingly roomy for one so small. There is seatingfor four but the rear seats and luggage space are limited. The roof covers the full length of the cabin but the rear window remains in place with the roof gathered up at the top rear edge.
Based on the same platform as the Peugeot 108 and Citroen C1, the Aygo has perhaps the most futuristic design with gloss black panels slicing through the bodywork. This next generation convertible city car is stylish and affordable with a price just £895 above the standard hatchback.
Designed to be agile, easy to park and economical for city use, these compact cars are designed to make the most of a very small footprint. A three cylinder 1.0 litre petrol engine with a choice of traditional or clutchless manual gearboxes gives low fuel consumption and emissions and enough power to remain entertaining to drive. The list of optional extras is extensive and include alloy wheels, fog lamps, projector headlights with LED daytime running lights, an x-touch multimedia system with DAB and Bluetooth, reversing camera and air conditioning.