Volkswagen arrived at the Frankfurt Motor Show with not one but six concept cars. Each based on a new Up! small car platform, the range included a pair of unusual convertibles. This due tell us more about the flexibility of the platform and the of the innovative thinking at VW than an insight into future cars.

The VW Buggy Up! is designed around the classic 1960s beach buggy. While the standard 2 door Up! hatchback looks production-ready the Buggy Up! seems more likely to remain a concept. It may not come with a roof or even doors but everything inside is waterproof – from the neoprene-coated seats right down to the controls and infotainment system. There are even drains in the vehicle floor and the open side sills help to prevent flooding. The original beach buggies were custom made and based on the VW Beetle of the day. Stripped down and with fat, chunky tyres they were raced around on the sand dunes of California before catching on worldwide. There is no denying that this new buggy looks a whole heap of fun too.
The bodywork is steal and there is a roll bar as well as extensive reinforcements to provide occupant safety.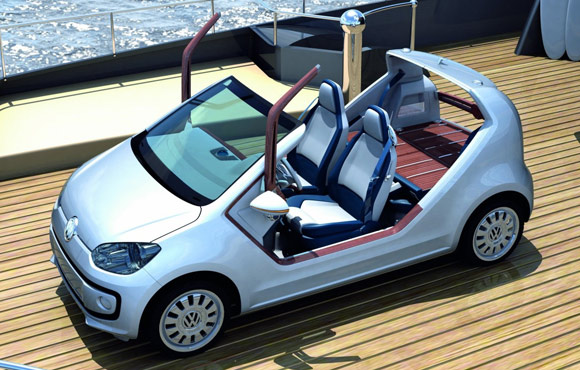 The VW Up! Azzurra is designed by Italian designers Giorgetto Giugiaro and Walter de Silva to create a car that reflects the boats of the Mediterranean. Even its name comes from a yacht club on the Costa Smeralda. The four seat car has a flat, deck-like floor when the rear seats are folded and fully open sides. Open to the air, the occupants can enjoy the summer breezes, as if they were aboard a boat. The interior is trimmed in white and blue leather with a maple wood inlayed mahogany dashboard with chrome details. The Azzurra is the kind of fresh thinking that is only ever seen in a concept so don't expect this car to reach production.