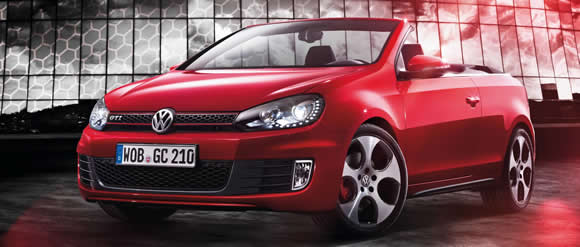 Since the new Volkswagen Golf Cabriolet was first announced fans have been eagerly awaiting a GTi version of the droptop. The renderings so far released give us a taste of what the new GTi Cabrio will look like when it is launched at the Geneva Motor Show. The sporty badge should help to differentiate the Golf Cabrio from the hardtop VW Eos.
Under the bonnet is the same 2.0 litre turbo four cylinder engine used for the hatchback GTi linked to a 6 speed gearbox and limited-slip differential. 17 inch alloy wheels fill the arches at each corner along with the usual discrete visual cues that set the GTI apart from lesser Golfs. The benchmark 0 to 62 mph sprint is covered in 7.3 seconds with either the manual transmission or optional DSG sequential system, while top speed is 147 mph (146 mph for the DSG).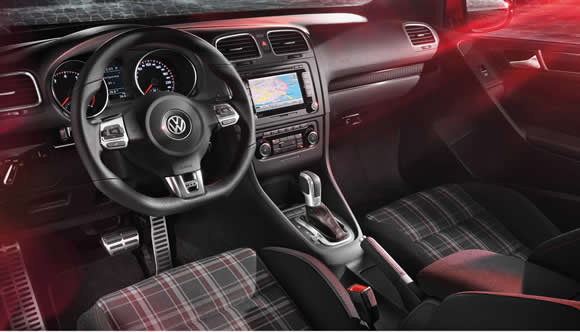 The insulated, fully automatic fabric roof drops down in just 9.5 seconds even at speeds up to 18 mph to reveal classic tartan cloth upholstery. We love it – the first time a VW interior has made us feel a little giddy in a long time, but if that's not your cup of tea leather (we assume not plaid) is still to be an option.
A brace of airbags and an automatic roll-over protection system tick the safety box with a five star Euro NCAP certificate to prove it.
Prices and full specs are yet to be announced but expect to see the VW Golf GTi Cabriolet arriving in dealers' showrooms by mid summer.