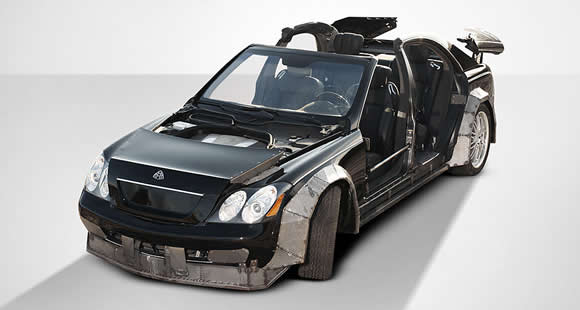 If you're a fan of hip-hop you'll remember a Maybach 57 getting a Mad Max-style makeover in last year's video of Jay-Z and Kanye West's track 'Otis'. The luxury car is seen to be cut up with power saws and welding torches to create an open-top machine with swapped around body panels and fire pouring from the tail pipes. The final scene of the music video promises that the car will be auctioned off for charity and that is just what is happening.
As lot 1 in Phillips de Pury's Contemporary Art Sale to be held in New York on 8th March 2012, the 2004 Maybach 57 is estimated to fetch $100,000-150,000 for the benefit of the Save the Children Fund. This apparent value is close to that of the car before its radical customisation although its new value was closer to $300,000 USD.

Star of a video which has been viewed worldwide and with over 37 million YouTube hits the limo customisation may not have been as costly as it first seems. The 'thundersome cruiser' thought to have been formerly owned by one of the rappers has all four doors and roof panels removed exposing the raw frame. A crude sheet-metal body kit widens the wheel arches to allow for larger wheels while an over-sized fire-spitting exhaust pipe extends form the rear. The new owner will not be able to drive the Maybach in public as it is no longer road-legal.
The proceeds of the sale are being specified for the Save the Children East Africa appeal to aid 12 million people who face severe food shortages.