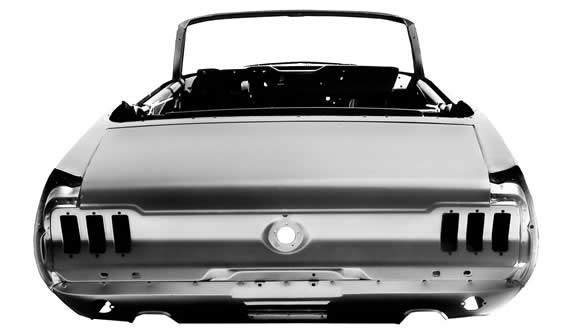 The people at the Ford Motor Company are wising up in their efforts to drag themselves back into profit. Not only are they developing better and more up to date cars they are also making the most of their heritage.
The 1967 Ford Mustang Convertible is undoubtedly an American classic. So much so that prices are rising to the point where buying a tidy original example is becoming a costly experience. Then you have to pay for the maintenance and restoration of a historic car which can easily run into tens of thousands.
There is an alternative though. Ford have licensed the rights to produce reproductions of the classic bodyshells to California based Dynacorn International. This way you can build your own new car from the ground up. A new bodyshell costs less than $16,000 and with modern manufacturing techniques and slightly thicker steel than the original and with over 90 percent now available new; your reproduction classic car may be better than new. Buyers will also have the option of using modern powertrains and upgraded suspension without the worry of devaluing an original classic car.
The '67 Ford Mustang bodyshell joins another Ford Convertible that of the '65 Mustang bodyshell already in production. While the '65 may be the original classic but the '67 benefits from the enlarged engine bay that allowed for a wide range of engines including the big block 390-horsepower 427 that came in the legendary Shelby GT500.