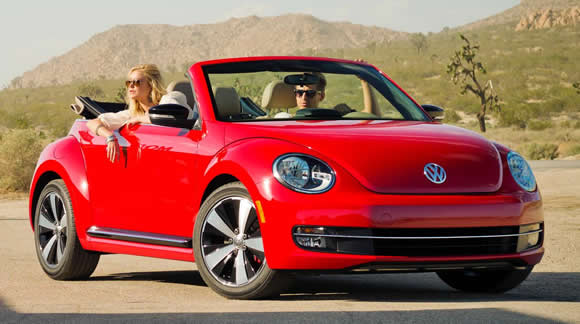 Due to be unveiled at the Los Angeles Auto Show in late November, the latex incarnation of the Convertible Beetle aims to be sportier and have a less feminine appeal.
The traditional fabric soft-top of the previous Beetle Cabriolet remains but it is flatter and sits behind a more upright windscreen. It is fast operating for a 4 seater convertible with an opening time of just 10 seconds. When open it bunches up over the rear of the car like its predecessor but looks a little neater and should obscure rear vision less.
The interior is suitably retro with a body coloured dashboard that is decorated with sporty features like a set of dash-top dials, an optional carbon fibre dashboard and even a racing-style flat bottomed steering wheel. Full details of equipment have not yet been released but you can expect VW's usual build quality. VW are keen to promote the safety features of the car which include multiple airbags and the now common concealed pop-up roll-over bars behind the rear seats.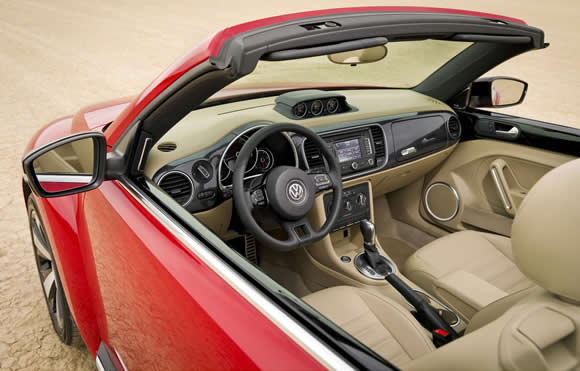 While the Beetle looks funky it has an unexpected level of practicality. The split folding back seats are of a reasonable size and there is plenty of luggage space too including two glove boxes.
There will be eight engine options in total with three of these offered to the US market and seven in Europe. The model line-up Europe will be 1.2, 1.4, 1.6 and 2.0 litre TSI petrol engines ranging from 105 PS to 200PS in power output. 1.6 and 2.0 litre diesel engines will also be offered with 105 PS and 140 PS respectively. There will also be super-efficient 1.2 TSI and 1.6 TDI BlueMotion variants. A 6 speed manual gearbox will come as standard with a DSG paddle shift option for the 2 litre models. The US market gets the same two litre petrol and diesel engines plus a 170 PS 2.5 litre five-cylinder petrol engine mated to a six-speed automatic gearbox.
VW will be hoping to take back some of the market share they have lost to the Convertible Mini with this new cabriolet when it goes on sale in Spring 2013.