We've been tempted with the anticipation of the Jaguar F-Type Roadster for some time. Development cars have been flaunted on public roads in various levels of disguise while undergoing final testing and in the last couple of weeks there have been renderings leaked to the press.
The Jaguar F-Type has now been officially unveiled at the Paris Motor Show and it is every bit as impressive as the speculation led us to believe. The two-seater convertible was displayed in a rather unjaguar-like red and more subdued silver. It may follow the naming tradition of some of the world's greatest sports cars but this is no retro reflection of former glory. The all-aluminium, rear wheel drive chassis is based on that of the larger Jaguar XK Grand Tourer and the body shell is a thoroughly modern design while still managing to nod to the great E-Type Jaguar of the 1960s.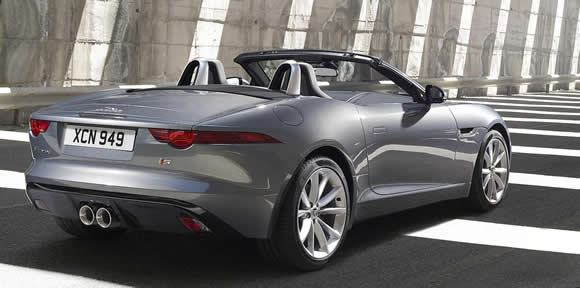 The design is handsome both inside and out and is set to be a popular choice for those looking for something a little more special than a BMW Z4, Mercedes SLK or Porsche Boxster.
Three engine choices have so far been announced known as F-Type, F-Type S and F-Type V8 S. Two are 3 litre supercharged V6s (340hp and 380hp) while the third is Jaguar's supercharged 5 litre V8 (495hp). A close ratio 8-speed ZF paddle-shift automatic transmission is to be used in all three with no news as yet of a manual option. We would expect to see one coming as the new Jaguar is very much intended to be a driver's car.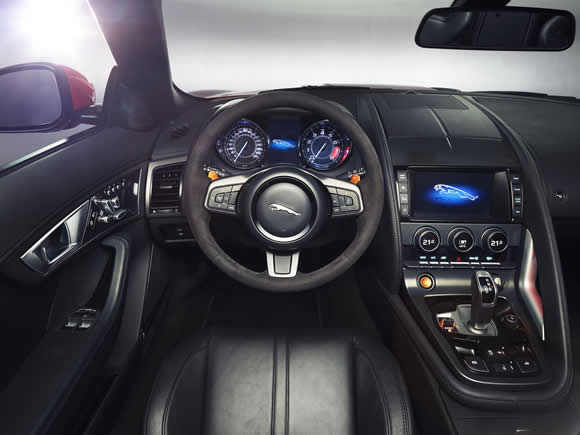 At two centimetres shorter than its nearest competitor the Porsche 911 Carrera Cabriolet, it is not a big car and thanks to extensive use of aluminium the weight is down to 1597 kg. A driver focussed design and clever use of technology aim to add to the driver enjoyment rather than cocooning them from the outside world.
Jaguar's order books are now open with prices in the UK starting at £58,500 which suggests a US price of around $70,000.