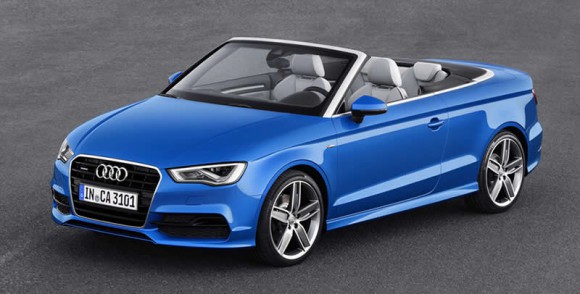 The old Audi A3 Cabriolet was a popular car giving a taste of style and luxury within its compact proportions. By the time the similar VW Golf Cabriolet was introduced last year it was beginning to show its age so this years Frankfurt Motor Show debut didn't come as a surprise.
The new Audi A3 Cabriolet is a little bigger than its hatchback shaped predecessor and comes in a more conventional 3 box form. While it looks ready to compete with the BMW 1-Series Convertible – the A3 Cabrio's natural competitor, the is also a flavour of the old A4 Cabriolet that did so well for Audi. With its fabric roof up or down it's a handsome car and comes with all the equipment and modern details you might expect from the premium German brand. The fully automatic roof will fold in 18-seconds at speeds up to 50 km/h (31.07 mph).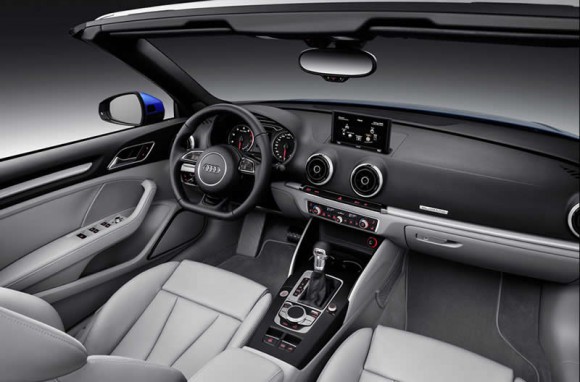 Power comes from a selection of Audi's petrol and diesel engines ranging from economy to performance models. These will power the front wheels in the lower range cars while the upper end will get the all-wheel-drive Quattro system.
The previous Audi A3 Cabriolet didn't make it to the American continent but there is hope that this larger model will. Audi have already announced that this time high performance 300 horsepower 2.0 TFSI powered Audi S3 Cabriolet will be offered shortly after launch. With the six-speed S tronic, the S3 will complete the sprint from 0 to 100 km/h (62 mph) in 5.4 seconds.
The A3 Cabriolet will go on sale this autumn in Germany, with the first deliveries arriving in time for the Spring of 2014. Prices will start for the base model 1.4 TFSI (103 kW with cylinder on demand technology) at 31,700 Euros.