We've been waiting for a proper convertible sports car with the Italian brand's extensive heritage for a long time and the Alfa Romeo 4C Spider does not disappoint. There have of course been other sports cars in recent years, not least the Alfa Romeo 8C Spider but this was a limited edition car with reputedly wayward handling. The Brera based Spider was a great looking car but the front-wheel drive chassis didn't make it a true driver's car. A new Roadster model has been long expected and planned for some time based on the next generation Mazda MX-5 however this was recently thrown into doubt with the Fiat Group CEO Sergio Marchionne stating that as long as he's in charge, there won't be an Alfa Romeo built outside of Italy.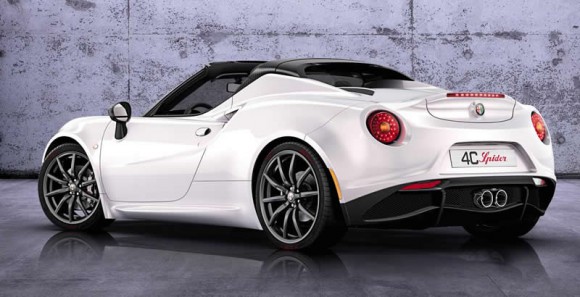 The 4C Spider Design Preview shown at Geneva this year is built in Italy and clearly intended to revive the brand's sporting past. Let's remember, Alfa were winning races before any Ferrari had turned a wheel. This car has an ultra-lightweight chassis and rear wheel drive. The mid-mounted all-aluminium 1750cc Turbo Petrol engine is potent enough to give the feather-weight car the power to out-perform many rivals. A dual dry-clutch 6-speed paddle-shift transmission gives the fast gear changes needed for a 4.5 second sprint from 0 to 62 mph.
While the Alfa 4C Spider is undoubtedly quick it is on the focussed driving experience that the Alfa Romeo engineers have spent most of their time. The monocoque chassis is constructed from carbon fibre while the bodywork is low density SMC (Sheet Moulding Compound) which helps to cut down weight without deforming as easily as aluminium.
Compared to the Coupe, the Alfa Romeo 4C Spider features more conventionally designed headlights, carbon fibre rollover bars, spoilers and windscreen frame, and a new exhaust system. The later made from carbon and titanium is produced by a company making competition motorcycle exhaust systems. The design features an electrically-operated valve system which can improve performance and enhance the exhaust note at the push of a wirelessly-linked button.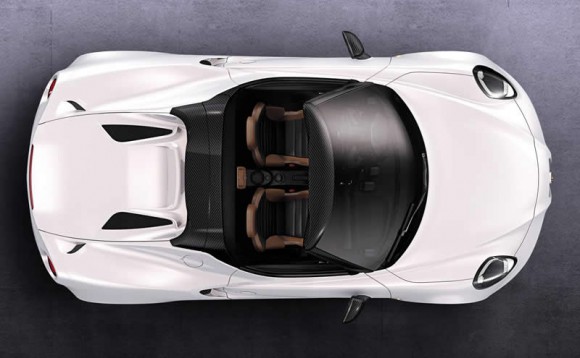 It also gains the benefits of the convertible roof – open air driving in an environment where the driver is closer to and further involved in the sounds and movements of the car. The roof comes in the form of a small, lightweight canvas soft top although we are yet to see how this folds away.
While the Alfa Romeo 4C Spider is a throughly modern sports car it takes its influence from the brands iconic performance cars of the past. It has more in common with a Lotus than recent Alfas but is larger and perhaps more modern in its execution. It isn't the affordable roadster that we still hope for but it should be priced at a level to sell in significant numbers. Details of the production model have yet to be released but calling this a 'preview' rather than a concept suggests that little will change.