The latest high performance 4 seat convertible from BMW will be called the M4 but don't worry, it couldn't be more M3 if it tried. The 4-Series is still based on the platform of the 3-Series car but the name is used tho separate the more sporting coupe and convertible models. The M3 badge will remain only on 4-door cars.
As spiritual successor to the E93 M3 the new BMW M4 Convertible keeps the same form factor as the previous car but makes a return to to a straight 6 cylinder engine. While the loss of the old high revving V8 is sad, the new M-tuned engine promises to have a character of its own. This time it gets a pair of turbo chargers to take the power level 11 hp over that of the old car. It is also lighter and boasts 550 Nm of torque – almost twice that of the 295 Nm V8. Double VANOS variable valve timing further boosts the power output of the 3 litre power plant to 431 hp which it reaches before at just 1850 rpm red line of 7600 rpm.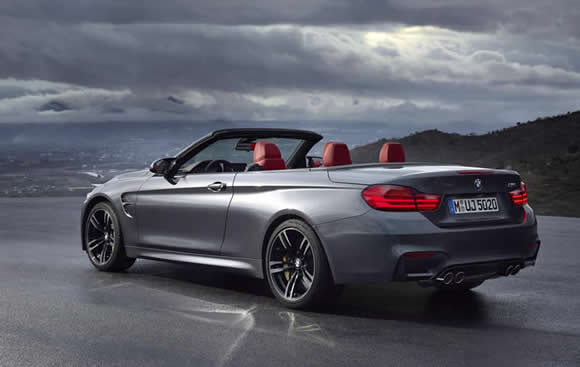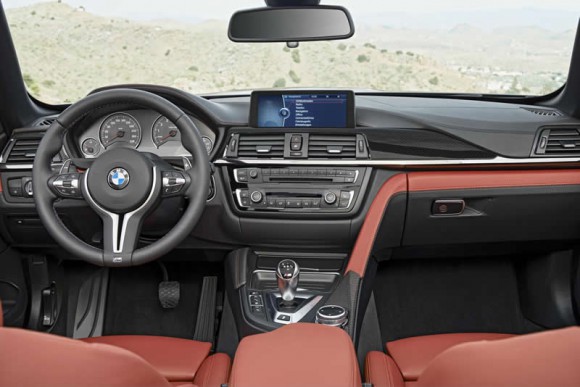 The M4 Convertible will come with a 6-speed manual gearbox as standard and with the option of a 7-speed M-DCT (Double Clutch Transmission). The quick shifting DCT unit takes a further 2 tenths of a second off the manual's 4.6 second sprint from 0-62 mph, it also increases the economy slightly.
This brings us to the major benefits of the new engine – huge improvements in fuel economy and emissions. The official figures are for combined miles-per-gallon are 31 for the manual and 32.5 mpg for the M-DCT. That's not far from a 50% improvement over the 22.2 and 24.6 of the V8 powered car. Emissions also drop considerably too, down to 213 and 203 g/km CO2.
Other factors helping improve the car's efficiency are aerodynamic measures and weight savings through use of aluminium and carbon fibre components. It also features advanced technologies including Auto Start-Stop, Brake Energy Regeneration, on-demand operation of ancillary units, a map-controlled oil pump and a final drive with optimised warm-up behaviour. 
Electric power steering features for the first time in an M car so we hope that it has lost none of BMW's usual levels of driver feedback. It also features BMWs Active Sound system which amplifies extra engine noise into the cabin via the hi-fi speakers.
Visually the new design is more purposeful than before but it is mostly in the details with the overall shape similar to the outgoing M3.