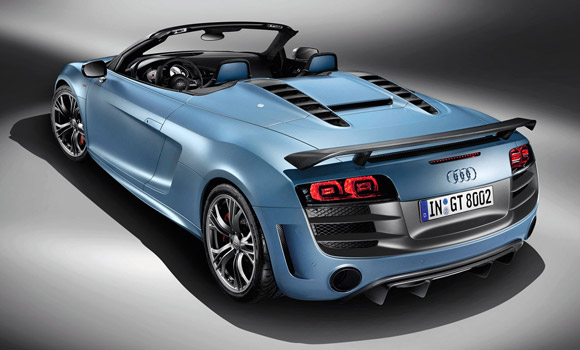 Audi have released full details of its up-coming limited-edition R8 GT Spyder. As with the R8 GT coupé the convertible has considerable weight reductions through use of lighter materials.
Carbon fibre has been used extensively making up spoilers, the rear bumper and the soft-top cover. The biggest weight saving of all though was to fit skinny new Alcantara trimmed seats with GRP frames. The electrohydraulicly operated fabric soft top remains as well as LED headlights and tail lights, an climate contral, a navigation, alarm and driver information systems, even a built-in laptimer. – Not exactly stripped down to the basics then.
A total of 85 kilograms has been stripped from the standard Audi R8 V10 Spyder giving more responsive handling and performance but that wasn't enough for Audi's engineers. Power has also been increased over the standard V10 powered car with a further 35 horsepower squeezed out of the 5.2 litre engine totalling a heady 560 hp. The result is a sprint from 0-62 mph (0-100 kph) in just 3.8 seconds and a top speed of 197 mph.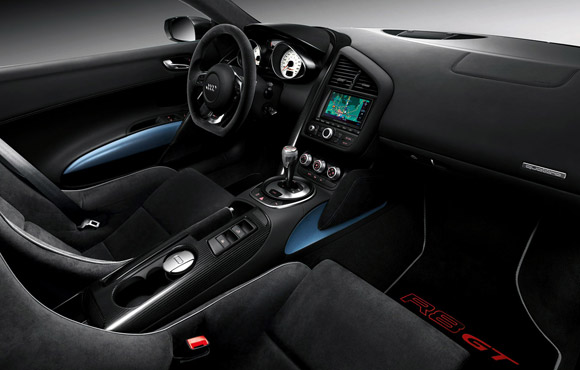 Visually there are added spoilers and a purposeful looking rear diffuser while the interior gets carbon fibre, body colour and alcantara trim with embroidered R8 GT logos.
Production is strictly limited to just 333 cars and there is a price on exclusivity. The price tag on the Audi R8 GT Spyder starts at €207,800.