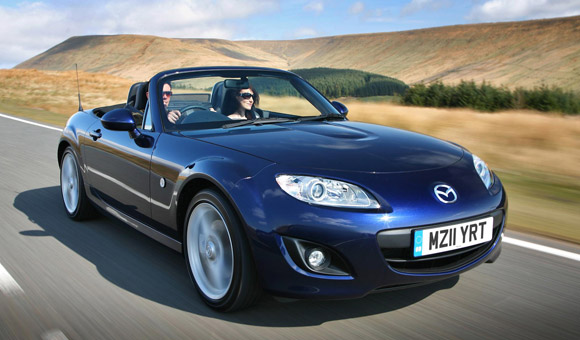 The Mazda MX-5 Miata is the took the top spot for a sports car once again in this year's JD Power Survey. The survey's vehicle dependability study placed the Mazda roadster in the lead by a considerable margin with a satisfaction rating of 82.4 percent, an increase on its high score from last year.
With almost 17,000 motorists from across the UK taking part in the highly-respected annual survey, owners of Mazda's iconic two-seater rated their cars well above the competition for its driving dynamics, handling, low ownership costs, mechanical reliability and interior quality.
"Today, the Mazda MX-5 remains unrivalled as a rewarding sportscar that can also be used for everyday motoring all year round," said Peter Allibon, Sales Director, Mazda Motors UK.
The MX5 Miata is awarded the top position for a sports car in both UK and US rankings making it a worldwide victory. The car celebrated 20 years of production last year and although it has changed a lot in that time it still sticks to the concept of a simple, fun to drive roadster. With production figures over 900,000 units it is also the World's best-selling two-seater roadster ever.
Rumours suggest that the next generation Mazda MX5 Miata will drop in weight by over a quarter. Substantially lighter in fact than even the first generation car. Plans to cut down the weight also include using a more efficient smaller displacement engine. The result should turn up the fun even more.
In the US survey results Lincoln leads the overall nameplate rankings for the first time followed by Lexus, Jaguar, Porsche and Toyota.