Bentley's GTC has long been an exceptional convertible car in both performance and luxury. The latest model to be revealed – the Bentley Continental GT Speed Convertible with its top speed of 202 mph (325 km/h) takes the concept even further as the world's fastest four-seat convertible car.
While the further refined twin turbocharged W12 engine has improvements in power – up to 616 bhp (625 PS), economy and emissions over previous models this is no harsh track machine. The GT Speed Convertible is designed to be a fast luxury grand tourer and there is no shortage of creature comforts. The close ratio eight-speed automatic transmission aims to efficiently deal with the power with the smooth precision that Bentley owners expect while the uprated, lowered suspension and retuned steering provide a sporting character without loosing refinement.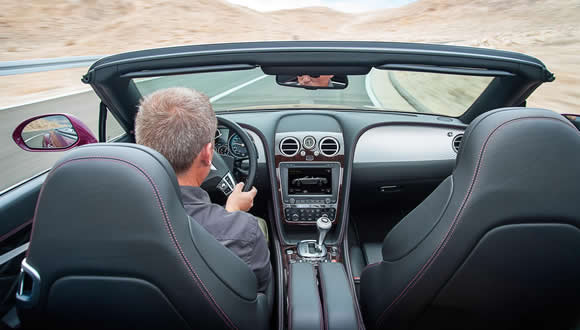 While the Bentley Continental GT V8 released in 2012 has gone down well with purists the W12 powered Speed remains the flagship car and the Speed model has some subtle visual details to set it apart, such as 21-inch alloy wheels, dark-tint grilles and 'rifled' exhaust tail pipes. The launch photos show rather un-Bentley-like purple coachwork however we are glad to find that there are almost infinite alternatives available thanks to the Mulliner options service.
As with all Bentley GTs the Speed permanent all-wheel drive with a 60:40 rear biased split of torque providing reassuring handling in all weather conditions. The four-layer soft-top roof is well insulated from both sound and temperature with Bentley conducting tests in every extreme of weather to ensure occupants are always comfortable.
The new Bentley Continental GT Speed Convertible is due to be officially unveiled at the Detroit Auto Show on January 14th.