» Buyers Guide » Bentley Convertibles
Bentley Convertible Cars: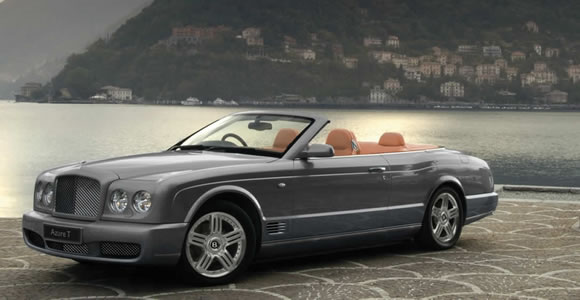 The British luxury car maker Bentley has had an eventful history starting in the early 1920s with sporting cars. With proven speed and reliability the cars soon became popular for long distance races with many wins most notably at the 24 hours of Le Mans. The sporting heritage has continued within the company and although the company's cars are now luxuries saloons and grand tourers they keep alive the sporting spirit both in performance and design.
Bentleys have long been prohibitively expensive aiming squarely at the top end of the automotive market. The range has included many convertible cars including the had crafted 4-seat Azure and popular GTC models in recent years. Bentley were able to claim the crown of having the fastest 4 seat convertible in production with their GTC Speed model.
Select a Bentley convertible:
The Bentley Grand Convertible has been described as a concept but in reality this is a pre-production model unveiled at the Los Angeles Auto Show to test the customer reaction in perhaps the biggest market for such a luxurious convertible car.

Bentley's GTC has long been an exceptional convertible car in both performance and luxury. The latest model to be revealed – the Bentley Continental GT Speed Convertible with its top speed of 202 mph (325 km/h) takes the concept even further as the world's fastest four-seat convertible car.

The Bentley Azure was for many years the ultimate luxury convertible. Sat at the top of the Bentley range it was big, opulent and expensive. Since 2011 when the Azure T finished its production run the mid-range Bentley Continental GTC has left to hold the convertible flag. Things may be due to change soon as Bentley are working on an Azure successor to compete with the Rolls-Royce Phantom Drophead Coupe at the pinnacle of automotive extravagance.