» Buyers Guide » Citroen Convertibles
Citroen Convertible Cars: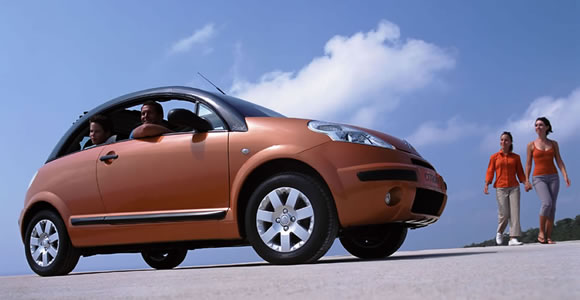 Citroën have long been known for their innovative engineering but there have only been rare occasions that this has reached their convertible cars. There was a Citroen DS Convertible from the 1950s right up until the early 1970s although these were only built in small quantities under license by French carrossier Henri Chapron. There was also of course the much loved 2CV or Deux Chevaux with its roll back canvas roof. Their only drop top in recent years has been the Citroen C3 Pluriel. A versatile car which can be used with several different roof arrangements. The car was cheapto buy, practical and fun but was flawed as a convertible by the fact that the detachable roof pillars could not be stored inside the car.
Select a Citroen convertible:
The Citroën DS3 Cabriolet has been updated with slick new lights and a pair of energy efficient diesel engines. When we reviewed the Citroën DS3 Cabriolet last year we found it an a fun and thoroughly modern car.

While details of the new Aygo are yet to be released, both the Citroen C1 and Peugeot 108 will be offered with a roll-back convertible roof. The fabric roof will be offered in several contrasting colours and works in a similar way to the Fiat 500C and Citroen DS3 Cabrio that we recently reviewed.

GM's European brands Vauxhall and Opel have confirmed that a convertible based on their Adam super-mini and Adam Rocks Concept unveiled in Geneva last year, will go into production. Launching in 2014 it will go head to head with the popular Fiat 500C and Citroen DS3 Cabriolet with which it will share a similar style […]