» Buyers Guide » Daihatsu Convertibles
Daihatsu Convertible Cars: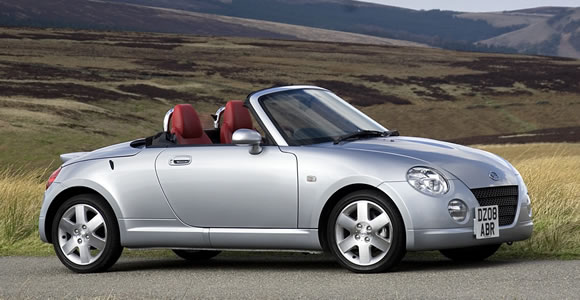 Daihatsu have built up a name for selling well made and innovative cars which often fill small niches within the motor industry. The Copen has been a great success starting out as a 'kei' car in Japan with limits on size and power in order to reduce its tax bill. It was also a hit in Europe where its traditional roadster style, folding hardtop and great value found a welcome home. Daihatsu are working on a replacement with the D-X concept released at the Tokyo Motor Show in 2011.
As of January 2011 Daihatsu Motor Cars has ceased to trade within Europe due to unfavourable currency exchange rates.
Select a Daihatsu convertible:
This week were both the Tokyo and Los Angeles Motor/Auto Shows. While LA saw the latest BMW 4-Series Convertible in the flesh for the first time as well as the latest Porsche 911 Cabriolet (which as you might expect would take a serious enthusiast to tell apart from the 2013 model), the really interesting sights were in Japan.

While there have been concepts floating around for small Japanese roadsters it has never looked more likely that we are about to see a return of the kei sports car. Both and look likely to show small roadster concepts at the Tokyo Motor Show in November.

Production of the much loved tiny Daihatsu Copen Roadster ended earlier this year and there has been speculation for some time as to what (if anything) will follow it. Daihatsu seem unlikely to disappoint having shown several concepts over the last few years. The latest of these is the Daihatsu D-R Roadster.