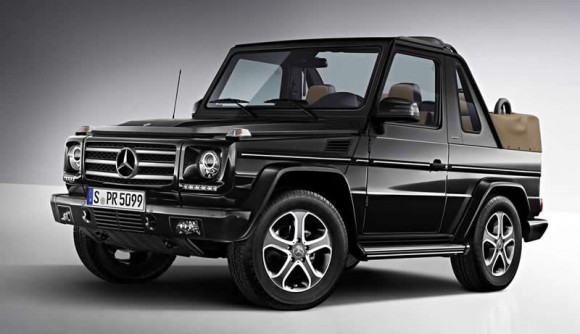 As the Mercedes-Benz G-Class finally comes towards the end of its production lifespan, a range of final editions are being launched and perhaps the most desirable is the Mercedes-Benz G-Class Cabriolet Final Edition 200.
Although only ever built in small quantities the Mercedes G-Class Cabriolet has been in production for 34 years giving it classic status. The Final Edition 200 is a long way from the utilitarian original however with its metallic black exterior paintwork, power roof and leather and poplar wood trim. The design interior features sand colour faced black heated seats as standard along with matching diamond stitched leather on the doors and an AMG performance steering wheel. When the weather allows the sound and heat insulated beige fabric roof will fold away behind the two rear seats in 30 seconds. A chrome finished radiator grille and titanium grey 5-spoke alloy wheels finish the look.
Powered by a 5.5 litre V8 engine the G-Class Cabriolet has plenty of power and despite its opulent cabin is still an impressive off-road performer with a low range ratio and locks on all 3 differentials.
The sad news is that the end of the line has been reached with all 200 of the Final Edition already sold.