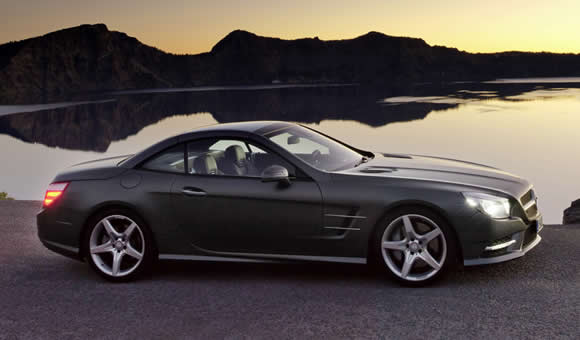 The wraps are off the all new Mercedes-Benz SL. After many unofficial leaks and taster images we now get to see the Mercedes convertible at its best. The luxury cruiser builds on half a century of 2 seater drop-top sports cars with styling that reflects its sporting heritage.
There is plenty of the Mercedes SLK roadster and larger SLS to be seen in both the exterior styling and the interior leaving the car less of a strong identity of its own compared with previous incarnations. The look is also more aggressive and sporting but lacks some of the elegance of SLs that came before it. It is still a handsome beast from the front while the rear shoulders have a slight awkwardness that wasn't present in the R230 SL.
The sports look should also be reflected in the performance. The new SL is around 300 pounds lighter than the previous car thanks to an aluminium body. This is no stripped-out racer though, there will be masses of luxuries throughout. Mercedes are particularly proud of their FrontBass sound system that mounts subwoofers in both the driver and passenger footwells for better sound quality.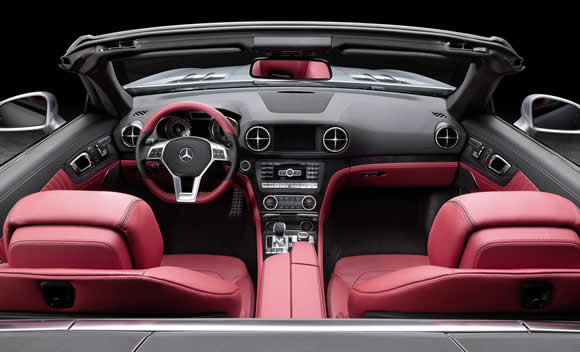 Suspension should be super-smooth thanks to Speed-sensitive, electromechanical steering joins and two suspension options: the standard Agility Control Suspension or the Active Body Control setup that first debuted on the outgoing model.
The roof which operates in less than 20 seconds, can be had either in glass or with the electrically tinting Magic Sky Control first made available on the Mercedes SLK roadster. This allows the transparent roof to be switched between light and dark at the push of a button.
The new Mercedes-Benz SL will launch with a 4663 cc V8 direct injection engine badged as the SL550. This produces 429 hp – around 12% more than the previous larger engine. It is also more efficient thanks to a stop/start function and the 7-Speed Driver-Adaptive automatic transmission. the SL550 takes just 4.5 seconds from 0 to 60 mph – eight tenths less than the previous car.
Expect a range of other engine options to be revealed when the new Mercedes is officially unveiled at the Detroit Auto Show in January before the car hits showrooms in the Spring.