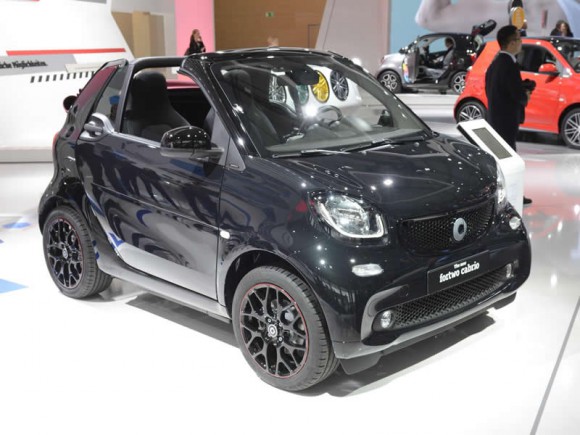 A convertible smart fortwo wasn't available when the latest city car design was launched in 2014. This has now been corrected with the tiny droptop making its first public appearance at the Frankfurt Motor Show.
As with previous generations, the Smart fortwo cabrio features the clever 'Tritop' sliding fabric roof. The fortwo cabrio will be unique within the market as the only compact city convertible with a fully convertible roof, rather than one with fixed window frames. The roof also operates in just 12 seconds even at highway speeds or even remotely from the car's key.
The new fortwo cabrio promises to be better to drive than previous models thanks to a chassis with 15% better torsional strength. A stringent safety system is built into every car with Smart's tridion safety cell design and the latest-generation ESP® with Crosswind Assist and hill start assist.
Customers will have a choice of two three-cylinder engines with 71 or 90 horsepower output. Each can be select with either a five-speed manual gearbox or the fully automatic twinamic dual clutch transmission. Trim comes in passion, prime and proxy packages along with a huge selection of optional extras including a wind deflector to keep drafts out of the cabin.
Prices have yet to be announced, but you can expect it to be competitive with other city-car alternatives when the order books open in November for the first Febuary 2016 deliveries.