Just 6 months after the arrival of the GTB coupe the new Ferrari 488 Spider has now been revealed. Building on the previous 458 model, the 488 has a smaller but even more powerful 3.9-litre V8 engine assisted by a pair of turbochargers. This makes it the most powerful convertible Ferrari road car ever made and only the second of the brands convertibles (after the California T) to have turbo assistance.
The slick two-piece retractable hardtop roof remains which the Italian's claim to be 25kg lighter than the fabric soft-top roof of the old F430 Spider. With a chassis designed specifically for a convertible body and only 50kg of extra stiffening required, the Ferrari 488 Spider should share the same phenomenal handling as the GTB while losing none of the performance. This is one convertible that makes the fixed roof alternative rather pointless.
The roof folds neatly away in just 14 seconds and slips away out of view under the twin flying buttresses leaving a sleek body shape with further refined aerodynamics.
The engine, first seen in a less potent form in the Ferrari California T was designed to create the greatest output without disastrous emissions or breaking the hefty 4-litre barrier tax barrier enforced in China.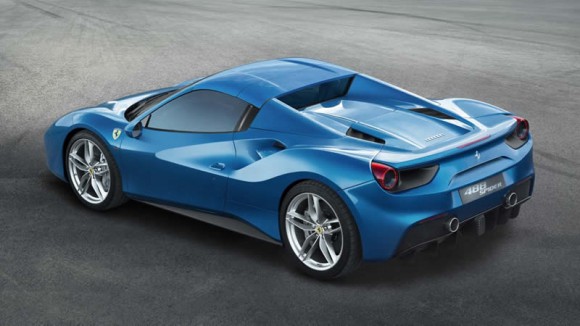 The performance figures are deeply impressive with a top speed of 203 mph and a 0-62mph time of 3 seconds. Yet efficiency is surprising with a fuel consumption at 24.7 mpg (11.4 l/100 km) despite a massive power output of 660 bhp at 8,000 rpm and 760 Nm of torque at 3,000 rpm. The soundtrack remains musical if not quite as thrilling as previous generations, but with the roof down you will be able to enjoy every note.
The super-fast 7-speed F1 dual-clutch transmission is the only option with Ferrari long moved on from manual gearboxes. An upgraded second-generation Slide Slip Angle Control System (SSC2) electronic driver aid allows further performance to extracted from the power-plant without loss of control or heavy-handed intervention.
While not a radical departure from the 458 generation car the Ferrari 488 Spider features a host of small improvements right across the car which in total make up a significant evolutionary step. Those looking to put their names on the waiting list will have to wait for September and the Frankfurt Motor Show to see the car and in the metal and a further few months before the first deliveries arrive next summer. Plenty of time to save up the estimated £180,000 price tag.