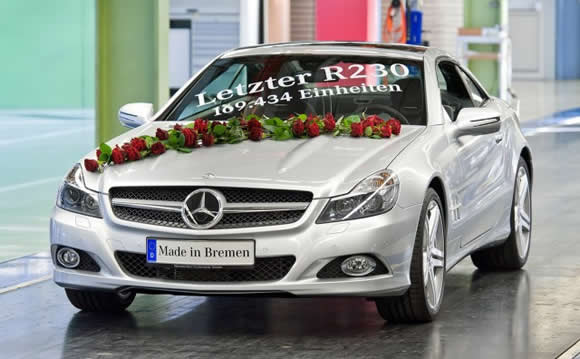 The final R230 Mercedes SL roadster has rolled off the production line marking the end of production. In total 169,434 of the Mercedes SL R230 were built. It was a car that over its 10 year lifetime re-wrote the luxury sportscar handbook with its build quality, reliability and clever folding hardtop. The R230 SL was released in 2002 with the pretty oval headlight styling which was updated in 2008 for a more aggressive look. The SL-Class could be often spotted as the Official Safety Car at Formula 1 races and has been a regular in company director parking spaces around the world including that of the late Steve Jobs.
The final car to be built was an Iridium silver Mercedes SL 350 with the 315 BHP 3.5-litre V6 petrol engine. The car is not for sale but will take its place alongside other classics within the extensive automotive gallery at the Mercedes-Benz Museum in Stuttgart.
The R230 Mercedes SL roadster will be replaced in 2012 by an all new car due for its first release in the next few days with a debut planned for the Detroit Auto Show in January. Unlike the outgoing model the new car should live up to its 'Sport Leicht' name with a considerable decrease in curb weight. It looses most of the 308 lb difference (for an SL 350) by use of an all-aluminum bodyshell. The performance and efficiency gains should be enough to keep the roadster competitive with offerings from BMW and Porsche.