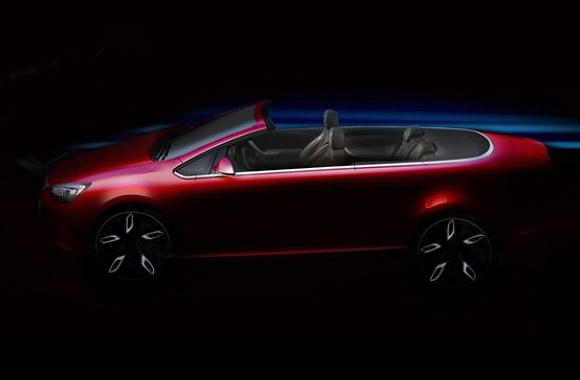 GM's Vauxhall and Opel brands will be getting a new convertible soon by the look of a teaser image released today. The new car is expected to have a fabric roof unlike the current Astra Twintop Convertible.
The new car will be based on the new Astra GTC coupé but will be slightly longer to balance the styling; avoiding the high rear deck of many rivals. The fabric roof should help keep the price competitive and provide better luggage space. The other benefit is a light weight. The new Vauxhall is said to make use of several light weight materials to keep the weight similar to the coupé suggesting this convertible will have a more sporting emphasis than the Twintop. The image doesn't give away much more about this four seat convertible but more teasers are sure to follow.
Power is likely to come from the same 1.4 and 1.6 litre turbocharged petrol and 2.0-litre turbodiesel engines as the Astra GTC coupé. We would expect to see the new Vauxhall Astra Convertible reach dealers in 2012 to take on the VW Golf Cabriolet.