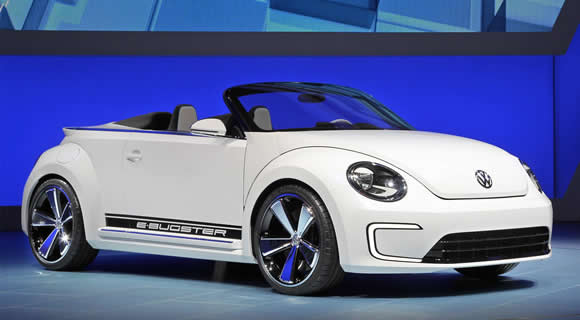 This week's Beijing auto show has brought out a few surprises with manufacturers saving some of their more unusual concepts for the open-minded Asian market. The VW E-Bubster is one such concept that we are particularly fond of. This electric convertible takes the cute VW Beetle and turns it into a cut-down sports car.
We can see a lot of influence from sister brand Porche in the design. Sat next to a Porsche Boxster Spyder it must look like its chunky, cheaky-faced brother. It remains likeable though in a very 'Herbie', characterful way. There are no pretensions of trying to be a high-perfomance car here.

Compared to the VW Beetle Coupe the windscreen is cut down by 90mm and the long speedster rear end hides the batteries which take the place of rear seats. The styling gives us a clue to what the upcoming VW Beetle Cabriolet will look like and it also gives us an idea of future Volkswagen power systems.
An 85 kWh electric motor gives a range of 110 miles and provides acceleration enough to take the E-Bugster from 0-60 mph in 10.9 seconds. While charging from a domestic AC outlet can be done overnight it can also be charged in 35 minutes from a specialist DC source.
The E-Bugster also incorporates a Formula 1 style Kinetic Energy Recovery System (KERS) to pass charge to the battery whenever the driver's foot leaves the accelerator pedal.
Electric power may not have passed into the mainstream market quite yet but it is good to see development continue. Meanwhile a new fossil-fueled replacement for the old VW Convertible will be on its way soon.