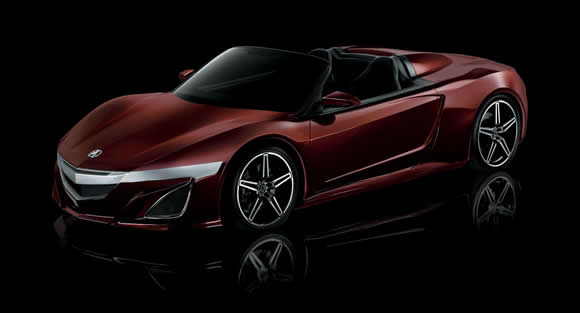 This summer's blockbuster adaptation of Marvel's comic book The Avengers is sure to be a big hit not only with kids but also car fans with one of its biggest stars being a unique Acura Convertible sports car.
Acura is well established in the North American market as the premium brand of Honda and currently produce a slightly confusing line of similar looking large cars. They have however shown interest in bringing back a supercar based along the lines of the Honda NSX. The NSX Coupe concept was shown in Detroit earlier this year and having got the approval of many fans it is said to be heading for production in around 2015. Until then though we get to look at the convertible supercar version at the hands of Marvel's Tony Stark. The convertible NSX appears similar to the Coupe in many regards and has raised hopes that the brand may also put this car into production. The car shown in the publicity pictures however lacks headlamps suggesting that it is more ov a concept than a realistic production proposal.
Following on from the 2011 film Thor, Acura is building an established role as the official vehicle of S.H.I.E.L.D., the international peacekeeping agency of the Marvel Universe. Throughout The Avengers, S.H.I.E.L.D. agents will drive various Acura vehicles although only the Acura NSX Convertible was created specifically for the film.
Like the original car, the NSX Concept features four wheel drive but this time the high performance comes from a hybrid power source. Since the Honda S2000 ended production this is the first hope of a new Honda Convertible.