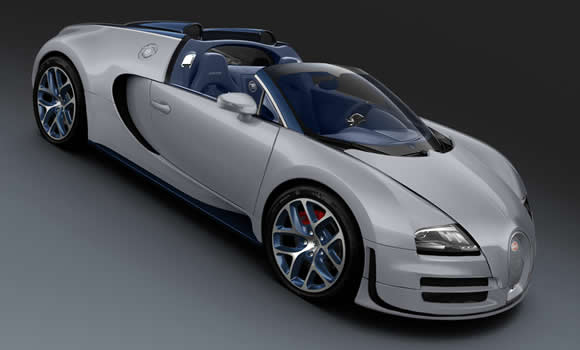 With each Bugatti Veyron being built bespoke with almost unlimited options it becomes difficult for the customer to know what to choose. The answer was to do it for them and they have now made a habit of building one off special edition cars with unique colour schemes and finishes. The Gris Rafale Bugatti Veyron Grand Sport Vitesse is just such a car and has been designed specifically for the South American market.
300 Bugatti Veyron's have been built so far of which just 40 have been the convertible Grand Sport. Each has had a unique specification and the Gris Rafale is no exception. The name of the car which is French for 'Grey Burst' is a good description with pale grey coachwork finished with distinctive blue carbon fibre details. The interior is the reverse of this scheme swathed in 'lake blue' hide with light grey stitching.
The Bugatti's Veyron 16.4 Grand Sport Vitesse Gris Rafale will be on display at the São Paulo Motor Show 2012. This car is priced at 1.9 million Euros, but if you can't lay your hands on that kind of cash the base price of the Vitesse comes in at 1.69 million Euros (without tax and transportation).