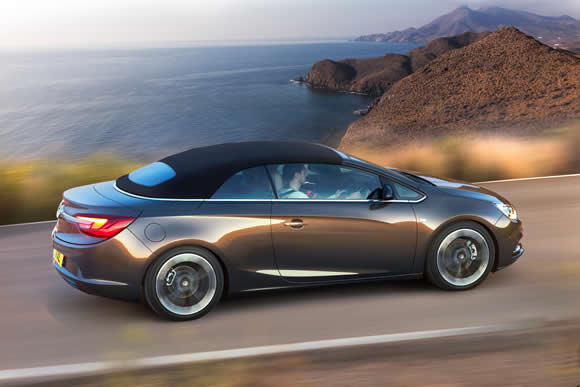 Vauxhall the British arm of General Motors has launched its new full-sized four-seat convertible car that we were teased with a month ago. The fabric roofed Vauxhall Cascada is targeting the premium market, an area which the brand hasn't entered into since the 1930s.
The Cascada was designed at the British Vauxhall design studio foremost with the British market in mind (a country which is known to have more convertible buyers than any other in Europe). It is also going to be sold in Europe under the Opel brand and it is easy to imagine the car being sold under other GM's Buick brand in the future. To keep things comfortable in the cold British winters Vauxhall designers included a thermal layer of polyester fleece sandwiched between the hood and its lining which has the added benefit of improving noise insulation too. When the sun does come out the fabric roof will drop in just 17 seconds at speeds up to 30 mph and folds neatly away behind the back seats.
Power comes from a choice of 3 engines including an all-new 1.6 litre turbo petrol unit producing 170PS and 280Nm of torque. The other options are 1.4 litre petrol and 2 litre CDTi diesel engines with further, more powerful options promised for the future. A six-speed manual and a six-speed low friction automatic transmissions will be available.
With the Vauxhall Cascada designed from the ground up as a convertible the chassis should have good torsional stiffness and despite being a significantly larger car it is claimed to have a 43% improvement over the Astra TwinTop.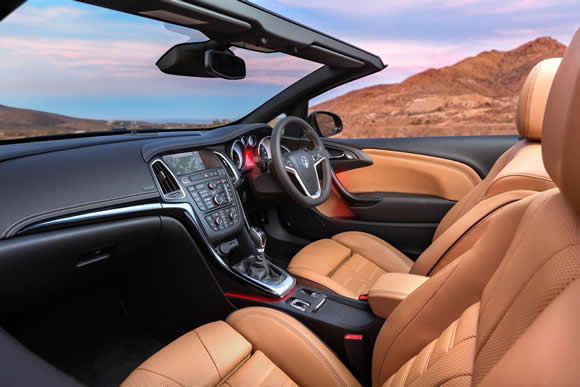 The interior promises to be a step up from other Vauxhalls with a combination of modern equipment and a handcrafted finish. A range of options include Nappa-leather trimmed seats, which can be heated or ventilated; a feature more commonly seen on a Mercedes-Benz. The released pictures suggest a handsome and luxurious car but weather it can compete with Germany's best is yet to be seen.
Pricing and full specifications will be announced next year with the first cars being delivered in March of 2013. All cars will come with a lifetime/100,000 mile warranty.