Due to get an official unveiling at the Geneva Motor Show in March the 2013 Porsche Boxster (to be released in 2012) is a substantial update of the highly regarded Roadster. In an unusual step for the often conservative German brand, the new design is clearly different to previous cars; taking inspiration from the Porsche Carrera GT supercar and 918 concept car. At last, the folding fabric convertible roof is fully automatic and the new interior design again reflects the Carrera GT with the distinctive centre console design.
At the heart of the 2013 Porsche Boxster is a brand new chassis with revised dimensions. While the wheelbase is lengthened the front and rear overhangs are reduced, increasing stability without enlarging the car. The track is also widened and the windscreen shifted further forward. The new Boxster features enlarged air-intakes and attractively detailed lights front and rear.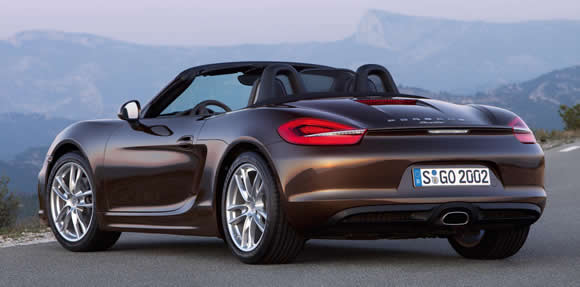 The latest Porsche flat-6 cylinder engines feature direct fuel injection and efficiency features including electrical system recuperation, thermal management and start/stop function. Along with lightweight aluminium body panels the combined result is up to a 15% improvement in fuel efficiency.
Power is increased a little too, with the standard Boxster up 10 hp to 265 hp and the Boxster S up 5 hp to 315 hp. This results in improved performance figures with a couple of tenths of a second reductions from their 0-60 mph times. In addition to the power advantage of the higher displacement engine the Boxster S also benefits from larger 19 inch alloy wheels, a part leather interior and Bi-Xenon headlights.
The new Porsche Boxster will come with a six-speed manual gearbox as standard with the option of a seven-speed dual-clutch PDK system which fractionally improves both acceleration times and fuel economy. The new Porsche will go on sale in April here in the UK with similar launch dates around the world. Prices will be $49,500 (USD) / £37,589 (GBP) for the Boxster and $60,900 (USD) / £45,385 (GBP) for the Boxster S.