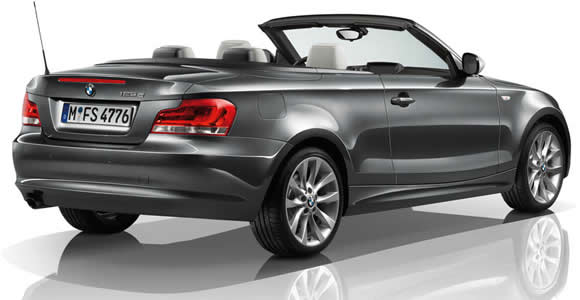 Preceding the all new BMW Convertibles we hope to see introduce later this year a pair of new limited edition versions of the BMW 1-Series Convertible have been released. In what we expect may be a final edition, the small convertible comes a bundle of extras including unique wheel and trim designs.
The 'Edition Exclusive' (pictured) comes with smart features like a chrome package covering grille, exhaust tips and window frames along with trim on the steering wheel. Either a special grey metallic paint or one of the five standard colours can be specified and there are some slick multi-spoke wheels designed especially for this car.
Those looking for a more sporty look can opt for the 'Edition Sport' which has a stiffer M Sport chassis, aero kit, double spoke 17 and 18 inch M alloy wheels and comes in the exclusive Carbon Black metallic paint finish. The black interior is finished with an M leather steering wheel and stainless steel pedals along with an M gearshift lever and handbrake handle finished in embossed nappa leather. The black seats and door trims feature contrasting blue stitching and aluminium strips finish the interior with a purposeful style.
This, along with 2 litre engine updates to the BMW 125i Convertible and 125d (replacing the BMW 123d Convertible) may be the final last hoorah of the outgoing BMW 1 Series. The new engines improve efficiency even further while also boosting performance.